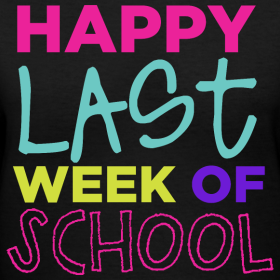 Krystal's End of Year Procedures
Krystal School
Thursday, May 14, 2020
During the last week of school, students will pick up the following items:
Desk items
Spring Pictures
Yearbooks
May 26th: 1st - 9:00am, 2nd - 9:30am, 3rd - 10:00am
May 27th: 4th - 9:00am, 5th - 10:00am
May 28th: TK/K - 9:00am, 6th - 10:00 am
Item pick up will be done in a similar format as Chromebook pick-up. Please write your child's name and teacher on a piece of paper and place it in your window where we can see it. We will place all items in your car, have your trunk open if you would prefer items placed in your trunk. We are asking that you make every effort to come during your scheduled grade-level time to make this process efficient and meaningful. Students will have the opportunity to wave to their peers and staff. If you are unable to come at your scheduled time, all items will be at the front doors of the school and labeled with student names starting Thursday, May 28th at 12:00pm.
Spring Pictures:
Your child's Spring Picture packet will be included in your pick up items. If you would like to purchase your Spring Pictures, you may do so by using the Lifetouch link included in the picture packet. If you do not want to purchase pictures, we will place a drop-off bin at the end of our parking lot that you can place unwanted pictures in for us to return to the company. Once all pick up appointments have been completed, the bin will be at the front doors for you to drop off pictures that you do not want to purchase.
Report Cards:
Report cards will be mailed home on Wednesday, May 27th.
Refund Information:
All field trip, dance money, etc. that has been paid will be kept on record and applied to the following year's events. Any family that is experiencing a financial hardship or is in need of an immediate refund, can contact the school.
Library Books:
We will be collecting any Krystal books during your assigned pick up time, we will also place a library book drop off bin in front of the school near the front doors. Please return any Krystal books/items on your assigned pick-up date.
A note from Ms. Corona:
I want to recognize all the 6th graders for their promotion! You've all worked so hard to get here. You will be greatly missed.
It's been a difficult year for all of us. A year that we won't soon forget but we'll get through this together because, We Are Krystal!
Thanks,
Ms.Corona
Chromebooks:
At this time, we ask that students hold onto their Chromebooks. We will send out more information at a later date on how to return your Chromebook to the school.
---
Durante la última semana del ciclo escolar, los alumnos recogerán los siguientes artículos:
Objetos de sus escritorios
Fotografías de primavera
Anuarios
26 de mayo: 1º año- 9:00 a.m., 2º año - 9:30 a.m., 3º año- 10:00 a.m.
27 de mayo: 4º año- 9:00 a.m., 5º año- 10:00 a.m.
28 de mayo: kínder transicional/kínder- 9:00 a.m., 6º año- 10:00 a.m.
Estos artículos serán recogidos de manera similar a cuando se recogieron las computadoras portátiles Chromebook. Por favor escriba el nombre de su hijo y de su maestro en un pedazo de papel y colóquelo sobre la ventana dónde lo podamos ver. Nosotros colocaremos los artículos dentro de su carro; si prefiere que los pongamos dentro de su cajuela, téngala abierta. Para que este proceso sea eficiente y valioso, solicitamos que haga lo posible por venir durante el horario programado de acuerdo al nivel de grado de su hijo. Los alumnos tendrán la oportunidad de saludar de lejos a sus compañeros y al personal escolar. Si no puede venir en su horario programado, a partir del jueves 28 de mayo a las 12:00 p.m., pondremos todos los artículos, etiquetados con el nombre del alumno, junto a la puerta principal de la escuela.
Fotografías de primavera:
El paquete de fotografías de primavera de su hijo estará incluido con los artículos a ser recogidos. Si desea comprar las fotografías de primavera, puede hacerlo usando el enlace de la compañía fotográfica Lifetouch incluído en el paquete de fotos; si no desea comprar fotos, pondremos un contenedor al final del estacionamiento para poner los paquetes de fotografías no deseados, y así nosotros las podamos regresar a la compañía. Una vez que hayamos terminado con todas las citas para recoger artículos, el contenedor se encontrará junto a la puerta principal.
Boletas de calificaciones:
Las boletas de calificaciones serán mandadas a los hogares por servicio postal (correo) el miércoles, 27 de mayo.
Información sobre reembolsos:
El dinero de los viajes de campo, bailes, etc. que haya sido pagado será guardado y aplicado para eventos del próximo ciclo escolar. Se puede comunicar a la escuela, cualquier familia que esté pasando por dificultades financieras o que necesite de un reembolso inmediato.
Libros de la biblioteca:
Durante su horario asignado para recoger artículos, estaremos recolectando todos los libros que pertenezcan a Krystal. También pondremos un contenedor para dejar libros de la biblioteca enfrente de la escuela cerca de la puerta principal. Por favor, regrese todos los libros/artículos que pertenezcan a Krystal en su fecha asignada.
Un aviso de la Sra. Corona:
¡Deseo reconocer a los alumnos de 6º grado por haber pasado de año! Todos ustedes han trabajado muy duro aquí este año; los echaremos mucho de menos. Para todos ha sido un ciclo escolar difícil, que no olvidaremos pronto, pero podremos superarlo juntos, porque We Are Krystal! (¡Somos Krystal!)
Gracias,
Srta. Corona
Computadoras portátiles Chromebook:
Por el momento, solicitamos que los alumnos se queden con sus computadoras portátiles Chromebook. En un futuro le mandaremos más información sobre cómo regresar su Chromebook a la escuela.